Most roads in flood-hit Tutong areas now accessible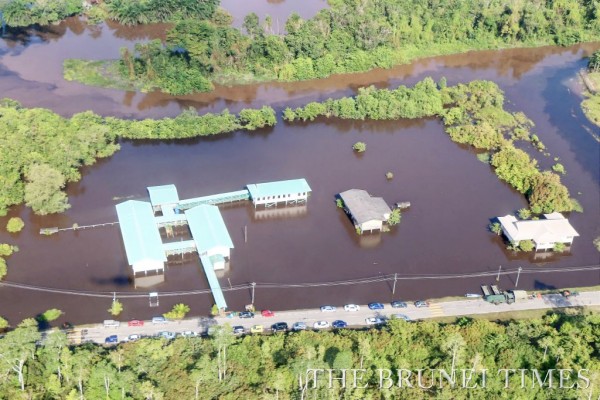 TUTONG, Jan 30: Most roads in the flood-hit areas of Tutong are now accessible to the public with floodwaters beginning to decrease.
Floodwater levels of below 0.4 metres were recorded on nearly 90 per cent of the affected roads in the district yesterday. The depth of floods on Jalan Kg Benutan, Jalan Kecil Layong and Jalan Bengkuru measured between 0.5 and 0.7 metres.
Meanwhile, 11 other roads have since dried up.
Houses, however, remain waterlogged in the aftermath of heavy rainfall that triggered flash floods in Mukim Lamunin, Mukim Tanjong Maya, Mukim Rambai and Mukim Ukong throughout the past week.
Despite receding floodwater levels, relief efforts at the Incident Command Post in Mukim Lamunin and Mukim Tanjong Maya continued as authorities and volunteers work round-the-clock to deliver aid to an estimated 5,847 affected residents.
The Incident Command Post has also received an overwhelming amount of donated food and beverages from concerned citizens alongside the daily rations provided by various government agencies.
"We will carry on with supplying aid to the flood victims as there are still plenty of food and drinks to go around," said ASFR Mohd Shazwan Suhanie, Deputy Commanding Officer of Tutong Fire Station 'E' Command.
He also told The Brunei Times that the relief efforts, dubbed 'Ops Bantu', are ready to move on to its recovery phase as floodwater levels are no longer classified as dangerous.
The recovery phase indicates the end of the harrowing flood situation in Tutong, which several authorities and residents have claimed as the worst flooding to have occurred in the district within recent years.
Once activated, the final stage of relief efforts will focus on helping affected residents recover from the floods.
ASFR Mohd Shazwan explained that the recovery phase of 'Ops Bantu' will involve tasks such as cleaning up flood debris and moving evacuated residents back into their homes. Priority will be given to places of religious worship, public buildings and personal housing.
However, the Incident Command Post will remain on high alert in view of uncertain weather conditions as Brunei transits into the northeast monsoon season from December to March.
source: The Brunei Times
Related posts