Relief items for flood victims pour into Tutong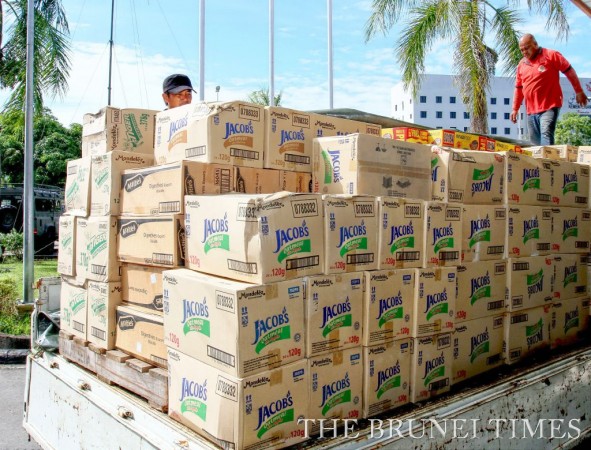 BANDAR SERI BEGAWAN, Jan 30: Donated food and household necessities were handed out to victims of recent floods in Tutong yesterday by volunteers from the private sector and local non-governmental organisations.
Among the items donated by Syarikat Perniagaan Malar Setia were 20 boxes of McVites Digestives, 20 boxes of Tiger cream crackers, 45 cases of Jacob's oatmeal, 100 boxes of Rainfresh Oxygenated Water and 100 boxes of Mie Sedap instant packet noodles.
Present to hand over the food and water was Malar Setia managing director Lim Chin Lam.
Also in attendance were sales director Eric Lim, purchasing and logistic director C W Lim and managing partner Hj Abd Rahman Hj Metasim.
The donations were deposited at the Lamunin Incident Command Post based at the Lamunin Fire and Rescue Department.
Meanwhile, 30 DST volunteers reached out to 50 flood-stricken households in Kampung Tanjong Maya and Kampung Lamunin in Tutong.
The exercise was part of the telecom's corporate social responsibility programme dubbed "Ihsan Kasih".
Leading the DST team was Hj Suhaimi Hj Hussain, the company's chief executive officer.
Manager of group corporate communications Elixsurian Hj Busu said: "We have purchased basic household necessities to aid the families who have lost their belongings due to the flood [that] include pillows, blankets, candles, raincoats, detergent, soap, mops, brooms, rice and drinking water."
DST staff also made personal donations to the flood victims.
"In the spirit of volunteerism and providing aid, the volunteers have also gone as far as providing the use of their personal 4-wheel drive vehicles," Elixsurian said.
Other relief aid provided by DST include 35 trunk radios that were handed to the Tutong District Office last weekend.
Meanwhile, the Society for Community Outreach and Training (SCOT) at Universiti Brunei Darussalam donated food to two villages in Tutong.
Founder and senior adviser to SCOT Anwar Mohamed led a caravan of seven executive members to Kampung Ukong and Kampung Rambai to distribute the food.
Anwartold The Brunei Times that money to buy the food came from fundraising projects previously carried out by the NGO. He also thanked the Royal Brunei Armed Forces and Lamunin Fire and Rescue Department for taking NGO representatives around the two villages.
Members of the Tutong community also pooled resources to assist those in need.
The chairman of the Tutong Religious Teachers Association, Pg Zaidi Pg Hj Abu Bakar (R), distributed the relief aid to 26 flood victims yesterday.
Even though the floodwater level in Tutong is no longer categorised as dangerous, relief aid from the public in the form of food, water and household appliances, has been pouring in over the past few days.
The National Disaster Management Centre has designated district drop-off points for the donated items: the District Emergency Operation Centre, Brunei Muara District Office, Berakas, which can be contacted on 2380804; the Incident Command Post based at the Lamunin Fire Station, which can be reached on 4237490; and Sungai Mau ICP at the multipurpose hall, which can be contacted on 3339047/3339048.
source: The Brunei Times
Related posts