Hundreds killed after Egypt police storm protest camp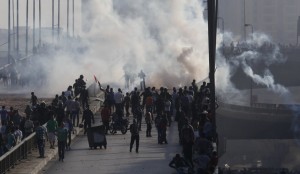 CAIRO: – Egyptians emerged Thursday from an all-night curfew imposed after the worst violence since their 2011 uprising, with 343 people killed as security forces broke up protests supporting ousted president Mohamed Morsi.
The army-backed interim government imposed a month-long nationwide state of emergency, and curfews in Cairo and 13 other provinces.
Shortly after the curfew ended on Thursday morning, light traffic began returning to Cairo's streets, with roads blocked for weeks by the pro-Morsi protests now reopened.
A health ministry official said at least 300 civilians had been killed throughout the country, updating an earlier toll. The interior ministry added that 43 security personnel had lost their lives.
Egypt's press carried photos Thursday of Morsi supporters brandishing weapons and throwing stones at police during the previous day's confrontations.
"The nightmare of the Brotherhood is gone," daily Al-Akhbar's front page headline read.
"The Brotherhood's last battle," added Al-Shorouk.
At least four churches were attacked, with Christian activists accusing Morsi loyalists of waging "a war of retaliation against Copts in Egypt".
The day's violence was the worst since the 2011 uprising that ousted president Hosni Mubarak, with an AFP correspondent counting at least 124 bodies in makeshift morgues in the Rabaa al-Adawiya protest site.
Morsi's Muslim Brotherhood spoke of 2,200 dead overall and more than 10,000 wounded.
The violence prompted vice president and Nobel laureate Mohamed ElBaradei to resign, saying he was troubled over the loss of life, "particularly as I believe it could have been avoided".
"It has become too difficult to continue bearing responsibility for decisions I do not agree with and whose consequences I fear," he said.
The dramatic assault on the sit-ins shortly after dawn surprised many, coming after officials had described plans to gradually disperse the sit-ins over several days.
The operation began with security forces firing tear gas before surging into Rabaa al-Adawiya, sparking pandemonium among the thousands of protesters camping there in opposition to Morsi's July 3 ouster by the military.
After the worst of the violence, many Morsi supporters were given safe passage out of the camp, some flashing victory signs as they left.
By Wednesday evening, a security official said Rabaa al-Adawiya was "totally under control", adding: "There are no more clashes".
In the smaller of the protest camps, at Al-Nahda square in central Cairo, police said they had control of the area after two hours.
Dozens rounded up in the dispersal were shown sitting on the ground, handcuffed and surrounded by security forces.
Authorities later said calm had been restored across the country.
Europe's leading powers, along with Iran, Qatar and Turkey, strongly denounced the use of force by the interim government.
The White House said Washington, which provides Egypt with $1.3 billion in annual military aid, "strongly condemns" the violence against the protesters and opposed the imposition of a state of emergency.
But Egypt's interim prime minister Hazem al-Beblawi praised the police for their "self-restraint" and said the government remained committed to an army-drafted roadmap calling for elections in 2014.
The Brotherhood urged Egyptians to take to the streets in their thousands to denounce the "massacre".
"This is not an attempt to disperse, but a bloody attempt to crush all voices of opposition to the military coup," spokesman Gehad al-Haddad said on Twitter.
Interior Minister Mohamed Ibrahim said no more protests would be tolerated, and in several neighbourhoods residents clashed with angry Morsi loyalists.
Clashes also erupted between security forces and Morsi supporters in the northern provinces of Alexandria and Beheira, the canal provinces of Suez and Ismailiya, and the central provinces of Assiut and Menya.
In Alexandria, hundreds of angry Morsi supporters marched Wednesday through the streets armed with wooden clubs chanting "Morsi is my president" and tearing down pictures of army chief Abdel Fattah al-Sisi, who led the coup against Morsi.
It was a dramatic turn of events for the Muslim Brotherhood, who just over a year ago celebrated Morsi's victory as Egypt's first elected president.
His turbulent year in power, marred by political turmoil, deadly clashes and a crippling economic crisis, turned many against the Islamist movement, with millions taking to the streets on June 30 to call for his removal.
- AFP
Disclaimer
---
You are free to comment on this article using a valid Facebook account.
---
comments