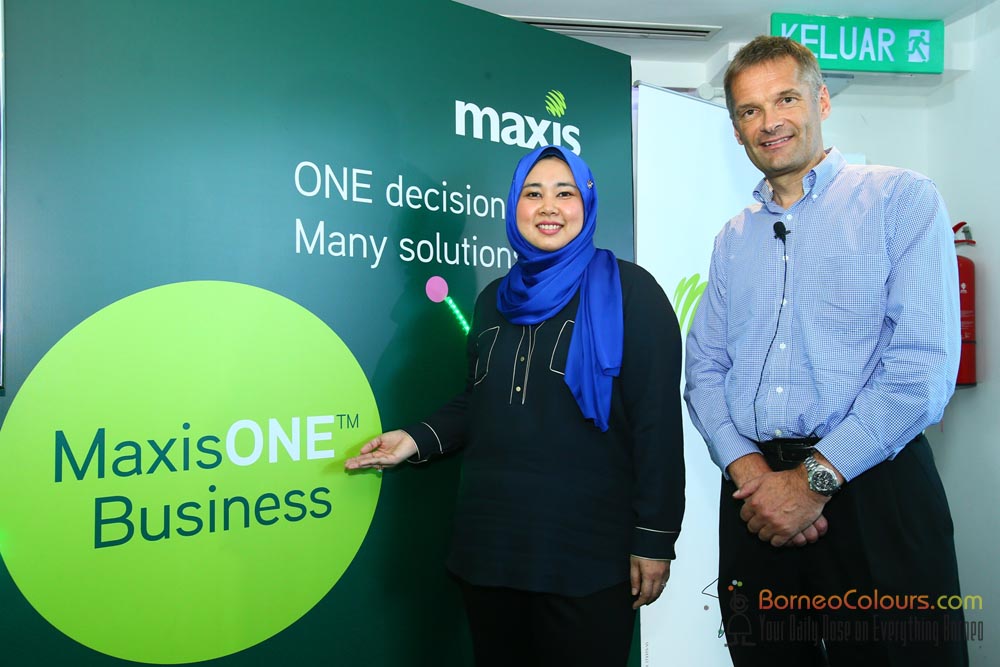 All-in-one Internet plan that enables businesses to make ONE decision on MANY solutions
Business Grade Services including 24/7 dedicated customer service, easy expense management and secure company mobile data
Customised mobility solutions, affordable IDD bundles and worry-free roaming with one flat rate
KUALA LUMPUR, Sep 3, 2014: Following the successful launch of its new postpaid plan for consumers, the MaxisONE plan, Maxis has launched its all-in-one Internet plan for businesses, MaxisONE Business. The plan comes with limitless talk and text, and Business Grade Services that create much needed flexibility for businesses where they can have access to dedicated contact centre support 24/7 via just one single number.
In a nutshell, this is what MaxisONE Business offers customers:
Limitless voice calls and SMS to all networks: Businesses can stay connected with limitless talk and text to all networks, including fixed lines, every day
Worry-Free Internet: High speed internet with no extra charges after exceeding quota
Business Grade Services: A range of business related services for every business need, including 24/7 dedicated customer service, Easy Expense Management & Secure Company Data
Customised Mobility Solutions: Complete your plan with customised solutions for your business
Data roaming rate of just RM38/day to over 100 countries: With one flat rate, you'll never have pay-per-use data charges while roaming
Device offers: Free devices & other attractive offers if you sign up with any plan
"In today's business environment, customers are looking for simpler and more cost efficient solutions to expand and grow their businesses. By utilising a one-stop solution that goes beyond mobile services, the MaxisONE Business plan enables our customers to just make ONE decision and have access to MANY solutions to help drive performance and growth. This new business plan takes our enterprise solutions offering at Maxis to a whole new integrated level. Moreover, with our leading high speed network, customers will be able to enjoy a seamless experience when using our new bundled solutions," said Abraham Foss, Maxis' Head of Enterprise.
"With SMEs making up a huge part of businesses in the country, contributing more than 32% of the country's GDP and on track to contribute 41% by 2020, there is so much potential for them to grow further. With our strong understanding of the SME market and being very much consumer driven, our goal is to create value and provide them with new and better ways of working. MaxisONE Business is therefore a critical solution in meeting our aspirations for this robust market, especially in an era where there is growth in demand for fixed mobile convergence and customers can have a seamless platform experience with freedom to work from anywhere," he said
The MaxisONE Business plan offers three plan options, namely the MaxisONE™ Plan lite, MaxisONE™ Business and MaxisONE™ Business Extra: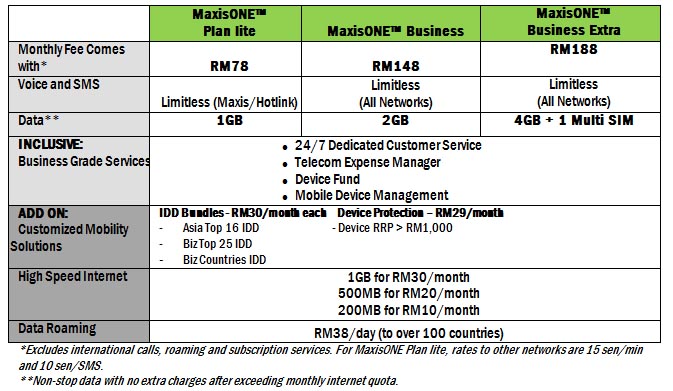 To sign up for MaxisONE Business, please call 1-800-82-1919. For more information on the MaxisONE Business plan, please visit www.maxis.com.my/business.
- BorneoColours
comments