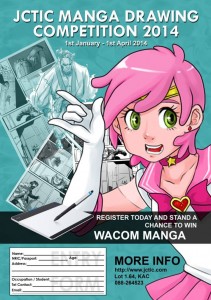 This is the first manga drawing competition organized by JCTIC (Japan Cultural & Travel Information Centre) Sabah, with NJAY, AhKWans and ROB-JR as judges.
link:
http://jctic.net/default/2014/01/jctic-manga-drawing-competition-2014/
RULES & REGULATION
Eligibility: OPEN TO ALL AGES AND CITIZEN OF MALAYSIA.
Running Time: 1st Jan 2014 – 1st April 2014
Entry limit: 1 entry per person only
Registration:
RM40.00 – Age above 18
RM30.00 – Age below 18
RM20.00 – Existing JCTIC students (regardless of age)
Registrations fees are non-refundable.
Receipt will be provided by JCTIC.
Contact Email: info@jctic.com / info@jctic.org
Contact number: 088-264523
Submission Deadline: 1st April 2014
Results: 17th April 2014
Format:
A4 size, Max pages 10, Min pages 6, color or non-color.
Digital (must print out on A4).
Traditional (must be scanned to submit)
Must be drawn so that it reads from left to right.
Manga must be original.
Medium: Any
Language allowed: Japanese /English
Theme: Open
General Rules:
No profanity, politics, copyright materials, nudity, commercial advertisements, or actions deem inappropriate.
source: Facebook
Disclaimer
---
You are free to comment on this article using a valid Facebook account.
---
comments