Lamunin sees tourism as potential OVOP offering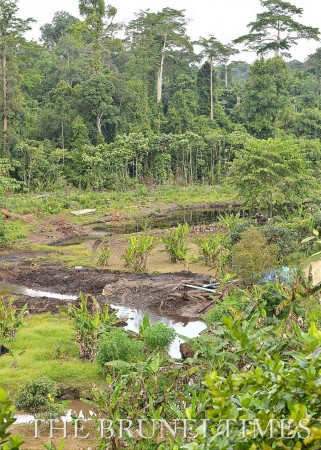 TUTONG, Feb 3: Kg Lamunin looks to introduce more recreational activities to lure more tourists, local and foreign, to enjoy the lush nature in the village next year.
Village head Major (Rtd) Said Hj Tinggal said they saw the market potential in activities such as jungle trekking and camping in the Tutong forests, citing the Bintudoh forest as a prime example.
"We have identified Bintudoh forest as having the potential to be upgraded to a recreational forest to attract more visitors to Tutong, especially our village," he said.
Camping is another area they wanted to explore for their next One Village One Product (OVOP) offering.
"We are also looking for a suitable plot where visitors can pitch their tents and go camping near a small wasai (waterfall) in the lush protected forest in Tutong," he said to The Brunei Times at a tamu (market) organised by seven descendents of Nayans family held at Lamunin Community Hall yesterday.
Said added that 40 per cent of works on the trekking routes have been completed. They aimed for the routes to be opened to the public next year.
"We still need to get permit and permission from the relevant departments before they can be opened to visitors."
The Greenspring Resort homestay area is currently under renovations as well, the village head said, adding once completed it would be a perfect addition alongside the trekking routes to attarct more people to the Bintudoh rainforest.
"We hope with the completion of the homestay and new trekking routes, Lamunin would be more well-known to both local and international visitors," he said.
A botanical garden where visitors can learn about herbs and other native plants is also planned.
Lamunin currently listed dry Malay cakes and biscuits such as kuih sapit, kuih bahulu and kuih lidah under the OVOP programme.
"There are now 28 families producing the Malay biscuits," he said, marking it as a sign of the initiative's success.
The biscuits received encouraging response from the local markets and shops, Said added.
source: The Brunei Times
Related posts