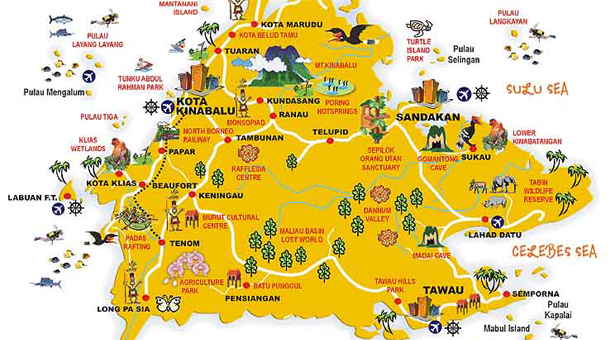 KOTA KINABALU: A soon-to-be-released map directory will help boost the tourism industry of Sabah and Labuan.
Known as "GET Map", it has positioned itself as an easy-to-use planning guide that can be accessed anytime and anywhere.
"GET" stands for "Go Easy Travel" which is the primary focus of this directory; to make it easy and enticing for travellers worldwide to choose Sabah and Labuan as their preferred leisure and business destination.
With the tremendous potential to increase the number of visitors to travel to and within Sabah and Labuan, GET is an ideal platform to provide them with all the essential information needed to make that decision.
The map directory that can be downloaded, printed and shared on the internet and is web, iOS and android-friendly.
A dedicated website will provide constant updates on tour destinations, deals and promotions to attract visitors to plan for longer stays at the best value available.
"Package2Go" a section in the dedicated website will feature destination editorials, quick guides and recommended tours, hotels and travel ideas with direct links to the directory advertisers.
Another unique feature of the GET website is "Our Little Guide", a series of online publications offering a reader-friendly, fun and concise introduction to a specific town and its tourist attractions.
"The tourism potential of Sabah is so great and I created GET as the gateway to explore Sabah's potential," said Nancy Koh, CEO-cum-founder of GET.
"Sabah is so much more than Mount Kinabalu, the islands and Rafflesia. There are many other destinations that have not been discovered and have remained untapped. We hope to change this and to bring these hidden treasures to worldwide attention," she said.
The Pacific Sutera Hotel here is the official venue for the start of "Pedal for Peace 2013" on May 18.
"Pedal for Peace 2013" is an exhibition of photos and posters in collaboration with Sabah Institute of Arts.
All proceeds from the purchase of artworks in the exhibition will be donated to Sutera Harbour's charity drive to provide education for underdeveloped children.
Meanwhile, the "GET Team" has drawn up a list of events for 2013-2014 as part of its publicity campaign to draw attention to Sabah and Labuan as an ideal venue for sports, food, art & entertainment and MICE events.
Among other events in the pipeline is the "Wonders of Sea" and "Pedal for Peace 2014", a Miri to KK extravaganza.
- New Sabah Times
Disclaimer
---
You are free to comment on this article using a valid Facebook account.
---
comments