French woman among five arrested in KK cannabis bust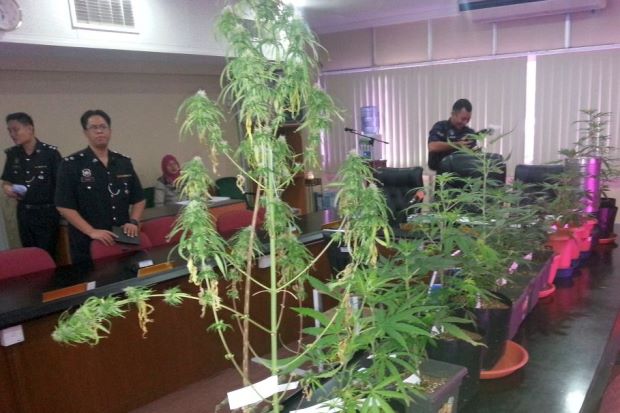 KOTA KINABALU, Feb 1: For the past four months or so, a group of individuals believed they'd found the perfect place to grow a very illegal crop.
They used two plush condominium units at the exclusive Signal Hill area near the city's downtown area for their cultivation of cannabis plants.
The group had special paraphernalia such as devices to ensure their illicit crops grew faster as well as more mundane gardening necessities like fertiliser.
However, their illicit operation unraveled on Jan 29 when a police narcotics team raided the condominium units and arrested five people including a French woman.
Sabah Police Commissioner Datuk Hamza Taib told the media here that the narcotics team raided the first condominium unit at about 11.30am on the day and arrested the French woman, in her 30s, and a local 25-year-old man.
He said the police team recovered 19 cannabis plants that were still growing in pots with another, which had already been "harvested."
About an hour later, the police team raided another unit within the same condominium complex and seized another five cannabis plants with another two already harvested.
He said the police team also recovered about half a kilograms of processed cannabis that had been divided into three packages.
Hamza said police detained a maid who was in the second condominium unit. While they were still inside, two local men in their 20s walked in and acknowledged that they were the unit's occupants. The two were promptly arrested.
He said police were investigating the case under Section 6B of the Dangerous Drugs Act which carries life imprisonment upon conviction as well as Section 39B of the same Act which provides for the mandatory death sentence.
He said initial police investigations showed that the French woman had been in Sabah for about a year.
Hamza said police were now determining the source of the cannabis plants and were ascertaining if they were cultivated from cuttings or seeds.
He added that based on the equipment seized, police are convinced that the operation was a professional one.
source: The Star
Related posts